Drive communication.
Tailored courses at all levels in the key business languages with highly effective one-to-one or small group training.
Our ACT® method of learning by doing helps anyone achieve immediate results, learn practical skills, and build confidence to communicate, opening up opportunities for work or travel worldwide.
People love our courses.

Only the best trainers and coaches
All Maka trainers are qualified language professionals with multicultural experience creating a positive and authentic learning experience while increasing cultural competency.

Strictly made-to-measure
No two people are the same so we customize every course to each learner's needs. That means building on existing strengths and targeting specific areas for improvement and lasting results.
Available where you are
COMPANY PREMISES, MAKA TRAINING CENTER, VIRTUALLY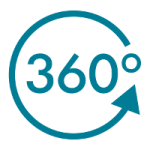 360° Testing
An accurate 360° assessment analyzes strengths and weaknesses in the target language to tailor accordingly the most effective training program.
360° Training
A multilevel approach that works to develop all key language competencies: communications skills, grammar, functional and professional skills.
ACT® Active Communicative Training
We use the ACT® training method, a flexible and interactive approach that transfers skills straight away, allowing language consolidation in a short time with long-term results.
What's my level
Our test is a 360° assessment of the key language competencies giving you a precise level.
Choose from over 50 languages
Borderless language and cultural training in all major business languages worldwide.
We always work together with you to identify, develop, and roll out the best training solutions to fit the varied requirements of your organization.